"The consequence you'll see will be stranger than a gang of drunken mimes... "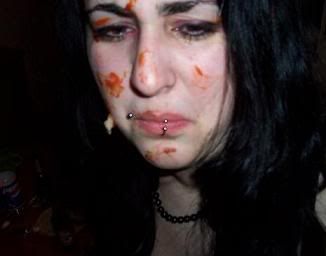 Kyra- Nee Chee- Kyky


20 Jahre
Studentin ( Sonderschullehramt)
verliebt-verlobt-verheiratet
married to the pain
chaotisch
kutschi
scared
verrückt
hurt
gebranntes Kind
fällt gerne
hat Probleme los zu lassen
alkoholische zwillingsschwester
fabrikaddicted
katzenschwester
pink-schwarz
verloren
konsumgeil
versaut
gummibärchenqueen
kaufsüchtig
hauptnahrungsmittel schokolade
gepierct
musiksüchtig
wimperntusche
liquid eyeliner
"hello kitty"
"my little pony"
haarreifen
punktiwunkti
rosssssssa
Wanna know me better???
And you might say it's
Not An Addict?
Ich mag diese...
Mehr über mich...